Not only dolls, I can swim!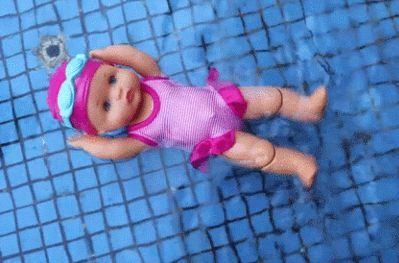 This doll will be your child's best swimming partner.When your child is afraid or resists water, our waterproof swimming doll can divert the baby's attention.Stimulate interest in swimming.
Double the fun of Swimming or Bath.This Swimming Baby Doll has 5 moving parts that allow it to look like it'sactually breaststroking across the water - it's enough to mesmerize your child for hours on end. You won't be asked for another toy for a long time because this one's such a winner.
Perfect for bathing, swimming, beach, or any water fun!
Every time your little guy wants to take it to the beach, swimming pool, lake and even bath time~
FEATURES: 
Moving parts for swimming: with moving arms and legs, along with a head that looks side to side, this doll looks just like a real human would if they were swimming. It can swim in pools or bathtubs - wherever you need it to. 

Waterproof: as expected, the doll is waterproof, which means there are absolutely no fears of shortcircuiting. 

Effectively develop children's emotion, vision and intelligence

Best gift for children on Christmas Day, Birthday, Children's Day, etc
Introduction:

Material: Safety plastic
This doll can move its joints
Plug in a battery and you can simulate swimming in the water(No. 7 battery X3)
Package Contents:
98.6% of customers buy two, and the children have a great time.