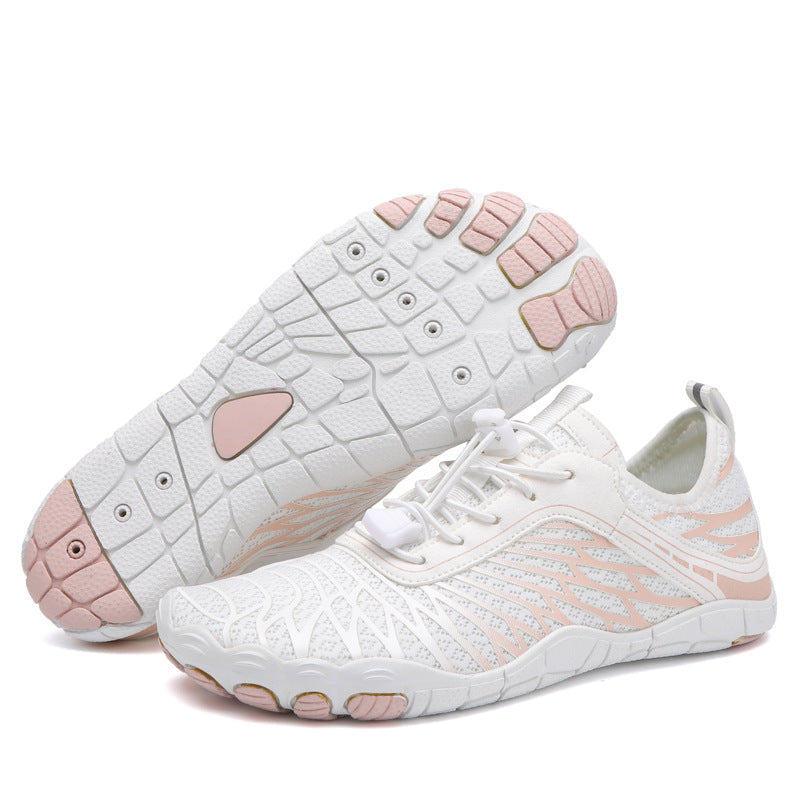 ${data.index + 1}/10
Pijnvrij hardlopen in het dagelijks leven 
Barefoot schoenen bevorderen een natuurlijk looppatroon
Optimale ondersteuning van de voetboog
Aanbevolen door orthopedisten
Bevordering van voetspiervorming voor voetstabilisatie
Meer pasvorm, meer ademend vermogen
Dankzij het rekbare bovenmateriaal met elastische veters passen onze blotevoetenschoenen zich perfect aan elke voet aan. Ademend bovenwerk houdt je droog en zorgeloos tijdens je training. Het simuleert een echte situatie op blote voeten, zorgt voor stabiliteit in de enkel en verdeelt de kracht gelijkmatig om elke spier te trainen.
Breed teenontwerp, meer flexibiliteit
Het brede teenontwerp zorgt ervoor dat al je tenen flexibel genoeg zijn om kracht en grip op de grond te vinden. Maak het sterkste, meest flexibele deel van je lichaam - de voet, om je hele lichaam beter te ondersteunen.
Geen druppels, veelkleurig
De zero-drop rubberen zool is ontworpen om je voeten dichter bij de natuur te brengen en je zelfs te dwingen elke spier te trainen. Levendig kleurontwerp en maximale flexibiliteit. De mens behoort tot de natuur en de natuur is kleurrijk.
Veelzijdige en trendy schoenen
Een paar schoenen kan bij veel verschillende gelegenheden worden gedragen, b.v. B. voor yoga, op het strand, duiken, vissen en zeilen. Het ontwerp is unisex, onderscheidend en modieus en past bij de smaak van zowel heren- als damesmode.
Zoolmateriaal: rubber

Sluiting: Trek aan

Haktype: plat
Maattabel:
FAQs
De voeten vormen de basis van het hele menselijke lichaam. Ze ondersteunen je lichaam van de grond af.
De plantaire fascia-spier is een lange band van spierweefsel en ligamenten die zich helemaal uitstrekt van uw hielbeen tot de voorkant van uw voet. Dit ondersteunt de voetboog en botstructuur van de voet. Wanneer deze ontstoken is, veroorzaakt dit een verscheidenheid aan problemen in de voet, zoals plantaire fasciitis en hielpijn.
Orthopedische schoenen helpen de voeten van een patiënt op één lijn te brengen en ontlasten gebieden met verhoogde stress (zoals een ingeklapte voetboog, een artritisch gewricht of een diabeteszweer of eelt).
Mensen van alle leeftijden dragen orthopedische schoenen. Ze zijn ook populair onder mensen zonder voetproblemen, omdat ze specifiek zijn ontworpen om de voet-, enkel- en beenstructuur en -mechanismen te ondersteunen en belangrijke spieren te versterken.
Alle producten worden verzonden vanuit China en het Verenigd Koninkrijk met een gemiddelde levertijd van 10-15 dagen. Als u onze levertijd niet ziet wanneer u uw bestelling plaatst en niet bereid bent om 10-15 dagen te wachten op levering, neem dan contact met ons op. Wij sturen u graag een volledige terugbetaling.
Dit vind je misschien ook leuk