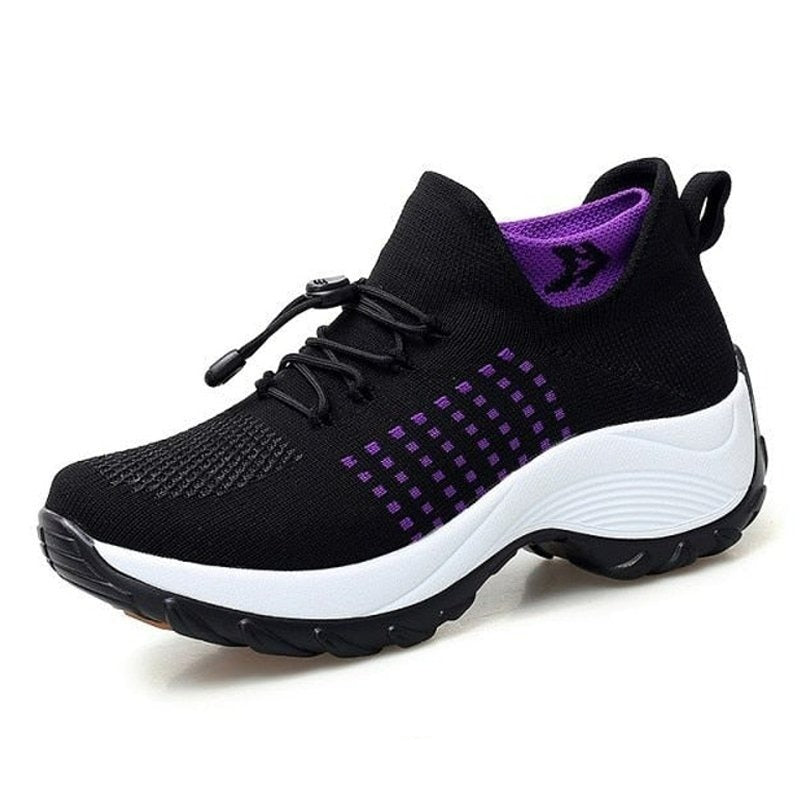 ${data.index + 1}/16
Proven to Increase Comfort and Alleviate Pain
*Deze exclusieve prijs is slechts een beperkte tijd beschikbaar*
Wil je je weer jong gaan voelen? Loop met het ultieme comfort en voel geen pijn. Het beste van deze sneakers is dat vrouwen met smalle of brede voeten kunnen genieten van een nauwkeurige pasvorm!
Wat maakt Comfort Ortho Wear anders?
✓Onmiddellijke pijnverlichting - Pijnverlichting bij eeltknobbels, artritis, fasciitis plantaris, enkelpijn, zwelling.
✓ Brede teen Doos - Dit verlicht de druk op eeltknobbels en hamertenen.
✓ Hieldempingszool - Dempend schuim voor de ondersteuning van de achtervoet en de voetboog.
✓ Rekbare gebreide stof - Vorm eenvoudig uw voeten om ze de perfecte pasvorm te geven. Het synthetische gebreide materiaal geeft het zijn lichtgewicht en ademende eigenschap.
✓ Antislip buitenzool - Antislip-tractiezool met waterbestendigheid. Perfect voor werkplekken met gladde vloeren: ziekenhuizen, schoonmaakwerkzaamheden, restaurants.
Premium Tech-systeem: Onze ergonomische dempende zool vermindert de impact die optreedt na het zetten van een stap. Elke stap is comfortabel en soepel.
WAT LEVERT ONZE SCHOEN OP?
Langdurige Verlichting En Comfort Voor Je Voeten
BREDE TEENDOOS

LOPEN ZONDER PIJN

VERSTEVIGDE INLEGZOOL

ONDERSTEUNING VOETBOOG

LICHTGEWICHT EN ADEMEND

VERLICHTING VAN HIELSPOOR

ORTHOPEDISCH GOEDGEKEURD

VERLICHTING VAN GEWRICHTSPIJN
#1 ORTHOPEDISCH AANBEVOLEN SCHOENEN
Gemaakt Door Een Team Van Orthopeden En Podologen
We maken gebruik van onze expertise op het gebied van voetgezondheid, productie en inkoop van de beste orthopedisten in de industrie om de nieuwste technologie en innovatie toe te voegen aan onze schoenen, waarvoor patent is aangevraagd.
Ons doel is om op duurzame wijze producten te leveren en te produceren waarbij de gezondheid van onze klanten op de eerste plaats komt.
Onze comfortabele orthopedische schoen is geschikt voor het verlichten van fasciitis plantaris, eeltknobbels, platvoeten, voetpijn, achillespeesontsteking, hielpijn, kniepijn, rugpijn en diverse andere pijnklachten.
De schoen wordt ook aanbevolen door podologen, fysiotherapeuten en andere medische professionals over de hele wereld.
Wat Maakt Onze Schoenen Tot De Beste Comfortschoenen?
Echte brede toebox
De brede teendoos zorgt ervoor dat je tenen zich op natuurlijke wijze kunnen spreiden, waardoor de druk wordt verminderd en je voeten voldoende bewegingsruimte hebben.
Super ondersteuning voor de voetboog
Ze worden geleverd met uitzonderlijke ondersteuning van de voetboog, ontworpen om maximale stabiliteit te bieden en voetpijn veroorzaakt door platvoeten of hoge bogen te helpen verlichten.
Grote ondersteunende demping
De ondersteunende demping zorgt niet alleen voor meer comfort, maar helpt ook de belasting op je gewrichten en rug te verminderen.
8+ Uur Dragen Zonder Ongemak
Onze orthopedische schoenen zijn perfect voor mensen die lange uren maken en op verschillende ondergronden staan. Het geavanceerde ontwerp van onze schoenen zorgt voor maximale ondersteuning en demping, waardoor de impact op je voeten en gewrichten wordt verminderd, op welk soort oppervlak je ook staat.
De slipvaste zolen bieden uitzonderlijke grip en tractie, waardoor ze ideaal zijn voor mensen die in natte of gladde omstandigheden werken. Het lichtgewicht ontwerp van onze schoenen betekent dat ze geen extra gewicht aan je voeten toevoegen, waardoor je benen, rug en voeten minder worden belast.
Of je nu werkt in de gezondheidszorg, detailhandel, horeca of een andere sector waar je lange uren moet staan, onze orthopedische schoenen bieden het comfort en de ondersteuning die je nodig hebt om op de been te blijven en efficiënt te werken.
Stabiele Ondersteuning Van De Voetboog
Artsen raden schoenen aan die de natuurlijke voetboog ondersteunen. De speciaal ontworpen stabiele ondersteuning van de voetboog van onze schoenen maakt pijnvrij lopen mogelijk, hoe lang het ook duurt.
Ademende Lichtgewicht Speciale Stof
Het speciale materiaal van de schoenen zorgt voor een constante luchtstroom. Het speciale ontwerp creëert ook een airbag onder de voet, die de gewrichten ontlast.
Lichtgewicht Dempend Schuim
Dankzij de lichtgewicht architectuur kun je de schoenen elke dag dragen. In samenwerking met artsen hebben we een lichtgewicht maar stabiele zool ontwikkeld.
FAQs
De voeten vormen de basis van het hele menselijke lichaam. Ze ondersteunen je lichaam van de grond af.
De plantaire fascia-spier is een lange band van spierweefsel en ligamenten die zich helemaal uitstrekt van uw hielbeen tot de voorkant van uw voet. Dit ondersteunt de voetboog en botstructuur van de voet. Wanneer deze ontstoken is, veroorzaakt dit een verscheidenheid aan problemen in de voet, zoals plantaire fasciitis en hielpijn.
Orthopedische schoenen helpen de voeten van een patiënt op één lijn te brengen en ontlasten gebieden met verhoogde stress (zoals een ingeklapte voetboog, een artritisch gewricht of een diabeteszweer of eelt).
Mensen van alle leeftijden dragen orthopedische schoenen. Ze zijn ook populair onder mensen zonder voetproblemen, omdat ze specifiek zijn ontworpen om de voet-, enkel- en beenstructuur en -mechanismen te ondersteunen en belangrijke spieren te versterken.
Alle producten worden verzonden vanuit China en het Verenigd Koninkrijk met een gemiddelde levertijd van 10-15 dagen. Als u onze levertijd niet ziet wanneer u uw bestelling plaatst en niet bereid bent om 10-15 dagen te wachten op levering, neem dan contact met ons op. Wij sturen u graag een volledige terugbetaling.
Dit vind je misschien ook leuk