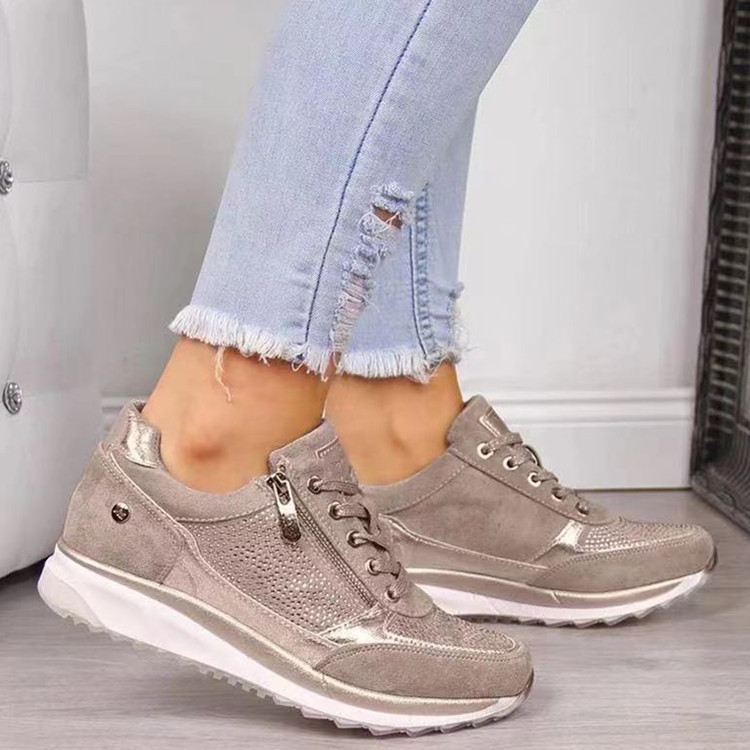 ${data.index + 1}/10
HEERLIJK LOPEN MET VITAFIT SCHOENEN
NIEUWE STIJLVOLLE CASUAL LOAFERS: Je zou alle aandacht krijgen met deze lage platform sneakers. Of je nu binnen op kantoor thuis bent of buiten winkelt, wandelen, casual rennen etc.Voelt lopen oncomfortabel en pijnlijk aan? VitaFit schoenen zijn de ideale oplossing voor jou en je voeten! Zeg maar dag tegen oncomfortabele schoenen en pijnlijke voeten! Onze voeten beïnvloeden de manier waarop we lopen en beïnvloeden verschillende delen van ons lichaam. 
ZOOL
De sneaker bestaat uit zorgvuldig geselecteerd hoogwaardig rubber als zool, dat wordt gekenmerkt door uitstekende slijtvastheid, slipweerstand en weerstand tegen vervorming en perfect is voor buitenactiviteiten. Het heeft een goed dempend effect. Gemakkelijk aan en uit te trekken!Daarom is het cruciaal om de best mogelijke ondersteuning voor onze voeten te kiezen om een goede houding te bevorderen. Onze biomechanisch ontworpen schoenen verbeteren het COMFORT en de MOBILITEIT zodat je pijnvrij door de dag kunt lopen! Je kunt op ons vertrouwen!
COMFORT EN STIJL IN ÉÉN
VitaFit schoenen combineren functionaliteit en modern design. Deze schoenen zijn niet alleen uiterst comfortabel en ondersteunend, maar ook stijlvol en passen perfect bij je dagelijkse outfit. Je kunt kiezen uit verschillende aantrekkelijke kleuren om je individuele stijl te benadrukken. 
BREED TOEPASSINGSGEBIED
 Perfect met shorts, jeans, jurken en rokken van elke lengte voor een modieuze look. Geschikt voor dames, dames, junioren, tienermeisjes. Goed voor op de universiteit, op straat, winkelen, daten, thuis, wandelen op het strand, vakantie of als vrijetijdskleding in de zomer.
FASHION UITERLIJK ONTWERP
Damesschoenen Mode Kanten Sneakers Ademende Mesh Sneakers Loafers Instappers Casual Platform Trainers Casual Ademende Sneakers Lichtgewicht Schoenen. Deze schoenen kunnen ervoor zorgen dat je er mooier, lichter en duurzamer uitziet. Exclusief ontwerp voor elke vriendin. De fantastische en schattige sandalen voor dames laten jouw persoonlijkheid en smaak volledig zien.
Maattabel:
Gelukkig winkelen: Wij streven ernaar om sandalen van de hoogste kwaliteit te maken. Als u vragen heeft over onze sandalen, neem dan contact met mij op. Ik zal u de beste service bieden en u een gelukkig leven wensen
FAQs
De voeten vormen de basis van het hele menselijke lichaam. Ze ondersteunen je lichaam van de grond af.
De plantaire fascia-spier is een lange band van spierweefsel en ligamenten die zich helemaal uitstrekt van uw hielbeen tot de voorkant van uw voet. Dit ondersteunt de voetboog en botstructuur van de voet. Wanneer deze ontstoken is, veroorzaakt dit een verscheidenheid aan problemen in de voet, zoals plantaire fasciitis en hielpijn.
Orthopedische schoenen helpen de voeten van een patiënt op één lijn te brengen en ontlasten gebieden met verhoogde stress (zoals een ingeklapte voetboog, een artritisch gewricht of een diabeteszweer of eelt).
Mensen van alle leeftijden dragen orthopedische schoenen. Ze zijn ook populair onder mensen zonder voetproblemen, omdat ze specifiek zijn ontworpen om de voet-, enkel- en beenstructuur en -mechanismen te ondersteunen en belangrijke spieren te versterken.
Alle producten worden verzonden vanuit China en het Verenigd Koninkrijk met een gemiddelde levertijd van 10-15 dagen. Als u onze levertijd niet ziet wanneer u uw bestelling plaatst en niet bereid bent om 10-15 dagen te wachten op levering, neem dan contact met ons op. Wij sturen u graag een volledige terugbetaling.
Dit vind je misschien ook leuk