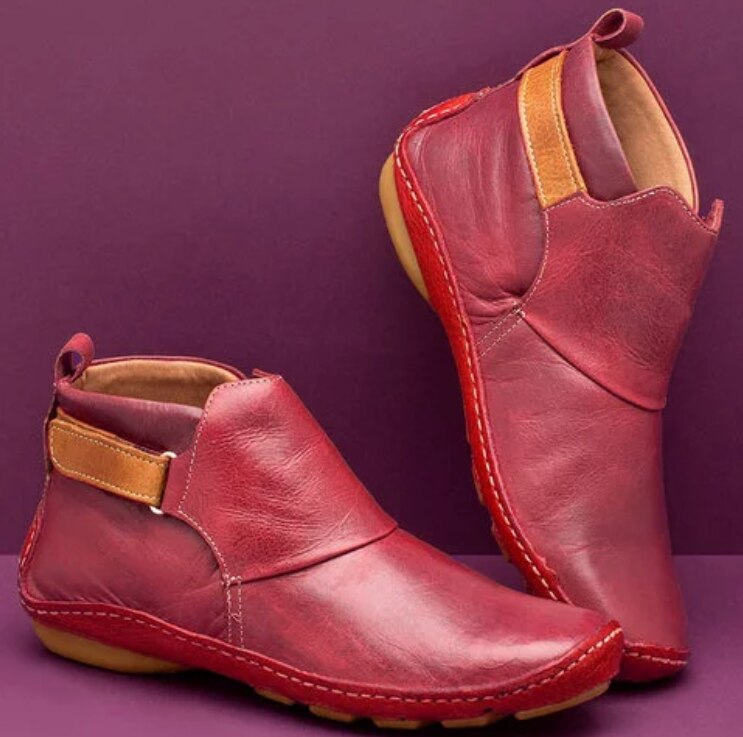 ${data.index + 1}/5
Beschrijving
Onze moderne vrijetijdsschoenen zijn gemaakt van orthopedisch lederen materiaal met een modieus mesh bovenwerk, waardoor ze zacht en ademend zijn. Het super ademende bovenwerk houdt uw voeten schoon en koel. Onze schoenen zijn ongelooflijk comfortabel, zelfs zonder sokken.
De zool is gemaakt van TPU-rubber, dat stevig en duurzaam is en een verbeterd antislipontwerp heeft, zodat u op alle soorten ondergrond kunt lopen en sporten.

Waarom zijn deze Faux Lederen Dames Enkellaarsjes zo goed?
Demping
Faux Lederen Dames Enkellaarsjes bieden demping onder de hele voet voor optimaal comfort. De zool bevat een speciale gel die schokken beter absorbeert dan alle andere.
Meer stabiliteit
De extra grote zool van 4 cm onder de hiel zorgt voor meer stabiliteit en de goed geplaatste voetsteun biedt een perfecte pasvorm, comfort en betere prestaties.
Voor brede en smalle voeten
Leren schoenen zijn geschikt voor mensen met zowel brede als smalle voeten.
Gemakkelijk aan te trekken
Het zachte materiaal van het bovenwerk maakt het gemakkelijk om Lederen schoenen aan en uit te trekken.

Onze antislip lederen schoenen zijn de perfecte keuze voor hardlopen, vrije tijd wandelen, lichaamsbeweging, reizen, kamperen, klimmen, outdoor activiteiten en dagelijks gebruik. De modieuze kleurstelling van de schoenen zorgt voor een andere visuele ervaring.
Bovendien zijn ze gemakkelijk aan en uit te trekken en gemakkelijk te sluiten. Eenvoudige stijl, veelzijdige kleuren die bij elke outfit passen.

Kies een maat groter dan normaal.
FAQs
De voeten vormen de basis van het hele menselijke lichaam. Ze ondersteunen je lichaam van de grond af.
De plantaire fascia-spier is een lange band van spierweefsel en ligamenten die zich helemaal uitstrekt van uw hielbeen tot de voorkant van uw voet. Dit ondersteunt de voetboog en botstructuur van de voet. Wanneer deze ontstoken is, veroorzaakt dit een verscheidenheid aan problemen in de voet, zoals plantaire fasciitis en hielpijn.
Orthopedische schoenen helpen de voeten van een patiënt op één lijn te brengen en ontlasten gebieden met verhoogde stress (zoals een ingeklapte voetboog, een artritisch gewricht of een diabeteszweer of eelt).
Mensen van alle leeftijden dragen orthopedische schoenen. Ze zijn ook populair onder mensen zonder voetproblemen, omdat ze specifiek zijn ontworpen om de voet-, enkel- en beenstructuur en -mechanismen te ondersteunen en belangrijke spieren te versterken.
Alle producten worden verzonden vanuit China en het Verenigd Koninkrijk met een gemiddelde levertijd van 10-15 dagen. Als u onze levertijd niet ziet wanneer u uw bestelling plaatst en niet bereid bent om 10-15 dagen te wachten op levering, neem dan contact met ons op. Wij sturen u graag een volledige terugbetaling.
Dit vind je misschien ook leuk