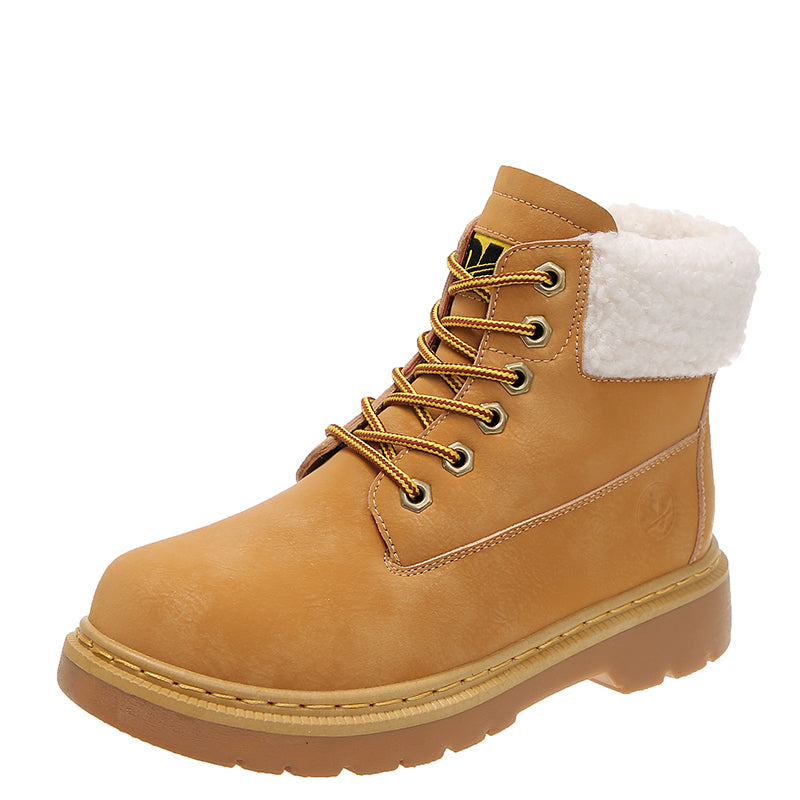 ${data.index + 1}/7
ALTIJD WARME VOETEN EN UITSTEKENDE GRIP MET DEZE GEVOERDE LAARSJES
NIEUW BINNEN! De winterschoenen collectie 2023. We trappen af met deze prachtige gevoerde laarsjes van Tess. De stevige rubberen zool zorgt voor optimale grip, ook met gladheid. 
Laat het koude weer maar komen en blijf stijlvol voorbereid met deze klassieke, comfortabele Kozi-bontgevoerde laarzen, ontworpen in Toronto, Canada door Vangelo.Bovenwerk van premium waterbestendig veganistisch leer biedt comfort, duurzaamheid en ziet er mooi uit.
Zware 600 g warme, isolerende nepbontvoering voor een uitstekende binnenwarmte en bescherming tegen kou, en de met bont bedekte binnenzool wikkelt je voeten om de hele dag ondersteuning en comfort te bieden bij koud weer.
Vetersluiting met roestbestendige 6 oogjes en nylon veters voor een aangepaste en veilige pasvorm.Duurzame rubberen buitenzool met antislippatroon zorgt voor tractie en duurzaamheid op gevarieerd terrein om uw stevige pas te behouden.
De gevoerde binnenkant en suede buitenkant geven de schoenen een knusse look, maar zorgen er natuurlijk gelijkertijd voor dat jouw voeten heerlijk warm en droog blijven. Laat die regen- en sneeuwbuien maar komen!
Gevoerde binnenkant

High grip zool

Warm & Waterproof

Vegan suede en bont

Stijl: Casual/outdoor




Seizoen : Herfst/Winter
Maattabel:
FAQs
De voeten vormen de basis van het hele menselijke lichaam. Ze ondersteunen je lichaam van de grond af.
De plantaire fascia-spier is een lange band van spierweefsel en ligamenten die zich helemaal uitstrekt van uw hielbeen tot de voorkant van uw voet. Dit ondersteunt de voetboog en botstructuur van de voet. Wanneer deze ontstoken is, veroorzaakt dit een verscheidenheid aan problemen in de voet, zoals plantaire fasciitis en hielpijn.
Orthopedische schoenen helpen de voeten van een patiënt op één lijn te brengen en ontlasten gebieden met verhoogde stress (zoals een ingeklapte voetboog, een artritisch gewricht of een diabeteszweer of eelt).
Mensen van alle leeftijden dragen orthopedische schoenen. Ze zijn ook populair onder mensen zonder voetproblemen, omdat ze specifiek zijn ontworpen om de voet-, enkel- en beenstructuur en -mechanismen te ondersteunen en belangrijke spieren te versterken.
Alle producten worden verzonden vanuit China en het Verenigd Koninkrijk met een gemiddelde levertijd van 10-15 dagen. Als u onze levertijd niet ziet wanneer u uw bestelling plaatst en niet bereid bent om 10-15 dagen te wachten op levering, neem dan contact met ons op. Wij sturen u graag een volledige terugbetaling.
Dit vind je misschien ook leuk